In person worship is currently suspended at Spirit of Joy! Lutheran Church. Read Pastor David's letter to the congregation here.
March 2020 is an unusual time to be a disciple! The Corona Virus and the COVID-19 illness are in full bloom across the country – and across the globe.
Across the county, government agencies are asking for people to self-quarantine and to refrain from gathering in groups. Which has meant – among many, many other implications – that many churches have had to stop in-person gatherings for worship. Even for those who have not, the number of people who are able to attend is severely limited.
Which means that we have an amazing opportunity.
Now is our chance to put into practice what we have been saying for years – that the church is so much more than Sunday morning.
Faith formation will have to move out of the church building, outside of Sunday mornings, and back into our daily lives … where it belongs!
We are committed to encouraging one another to continue to grow in faith during this time, and providing resources for us all to continue to grow closer in relationship with God and one another. Bookmark this page as we continue to add to our resources.
News and Updates
Stay in touch with the latest that is happening in our ministry together.
Weekly Worship
On Sunday mornings, we remember that even though we are socially distant, we are spiritually connected.
We are gathering every Sunday morning for virtual Coffee Hour at 8:30 am via Zoom video conferencing. Watch the weekly news email for the link.
At our normal worship time, 10:00 am, we will have a time of prayer and devotion on Facebook live.
Devotionals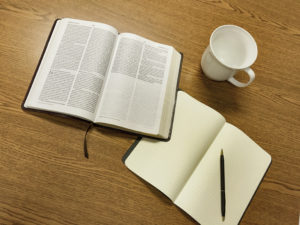 Every week, we post audio devotionals that you can listen to wherever you are.
Pastor David's sermons are posted here on our website every week.
You can also search your podcast app for "Pastor David Hansen" to find the sermons there and subscribe to have them delivered to your phone.
We have launched a new devotional called "6 Minute Faith." Search for it on your podcast app and subscribe, or stream it here.
Watch this page for additional devotional resources, including information about any online worship opportunities we offer.
Read the Bible
So … you're stuck at home, and you've finished your latest Netflix binge. What next?
This is the perfect time to pick up that commitment you made to read the Bible more!
With Children and Families
Music
Yes, music. For many of us, music is deeply connected to our faith. Whether the chorales of Bach or the choruses of Rend Collective, the music we listen to often resonates deeply in our soul.
Stay Tuned
What is posted here is just the beginning. We will continue to both create new resources, and pull together some great resources from other sources.